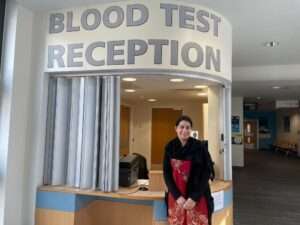 City Care Centre
Blood Test Reception Team
Location:
City Care Centre, Thorpe Road, Peterborough, PE3 6DB
Opening Hours:
Monday – Friday 08:00 12:30 and 13:00– 16:30 (Closed between 12:30 -13:00)
About the service:
The City Care Centre Phlebotomy appointment system was introduced in the summer of 2020 as a way for GP Practices to book their patients in for a blood test at a specific time, creating less waiting times for patients.
The Greater Peterborough Network manage a blood test reception desk at the City Care Centre, which has full access to the appointments booked for the that day and can print and prepare blood test forms for patients arriving for blood tests.
The service operates Mon-Fri 08:00am – 16:30pm on an appointment basis. Please call 01733 666670 option 1 or 3, or your GP Practice to book and appointment.
The service does also offer a walk-in service between 08:30am – 09:25am Mon-Fri, well as limited walk-in slots throughout the day for patients requiring urgent same day bloods or INR's.
During busy periods, Walk in patients may need to wait so are advised to call the Appointment line 01733 666670 option 1 or 3.
It advised anyone needing a routine blood test pre books an appointment by calling 01733 666670 option 1 or 3.
Support we offer
Appointment system management
Printing and preparing of blood forms
Rebooking / Moving appointment