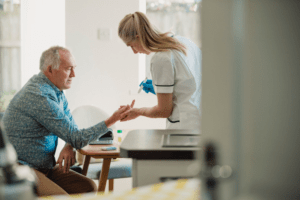 Diabetes Home Visiting Service
Location:
Patient's home
Service delivery:
Monday – Friday 09:00 – 17:00
About the service:
GPN use specialist trained HCA's supported by a diabetic nurse to carrying out home visits for housebound diabetic patients. The HCA will complete a full diabetic review. GPN record and report all results back to the patients GP to review. On the occasions the HCA identifies instances which require immediate interventions, they are able to refer to podiatry and contact the GP for urgent adjustments to medication. This provides a vital service aiming to support patients with their overdue checks and reviews. This project has been a great tool in identifying other areas of healthcare required for patients who are unable to visit their surgery. Housebound patients who think they may be eligible for this service needs to contact their GP practice for a referral to our service.
What support do we offer:
Diabetic Foot checks
Diabetic blood tests
BP checks
Urine samples
Height checks
Weight checks
Diabetic Reviews