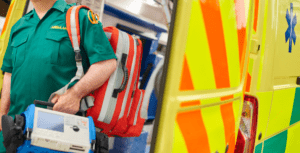 Urgent Community

Response / Virtual Wards
Location:
Patient's Home
Service delivery:
Monday – Sunday 08:00 – 20:00
About Urgent Community Response:
The Urgent Community Response (UCR) aims for EEAST ambulance crews to be able to reduce time on site, by handing over care co-ordination of patients that don't require transfer to a hospital to a member of the GPN team. 
Staffed by HCA's with clinical oversight from a GP/ANP/Nurses, over 70% of patients are able to stay at home as a result of GPN interventions ranging from adjusting medication, referring to social care (Enhanced Response Service), to taking observational data and undertaking follow up welfare checks and ordering aids and adaptations for the home. 
About Virtual Wards:
The NHS is introducing more Virtual wards to support people away from hospitals, in a location more convenient for them. A virtual ward provides an alternative option for those who become unwell and would normally be spending time in hospital. 
Virtual wards prevent avoidable admission into hospital, supporting early discharge out of hospital, and increase the overall bed-base available for acute care.
Keeping patients in familiar surroundings, but with the necessary care and support from the hospital and community services, is likely to improve their outcome.
Having patient care delivered on a virtual ward can mean they spend a shorter amount of time in hospital, or avoid being admitted altogether. This reduces those risks known to be associated with hospital stays.
What support do we offer:
Single point of access – we can coordinate with GP/ANP/HCA/ERS (General Practitioner/Advanced Nurse Practitioner/Health Care Assistant/Enhanced Response Service)

Prescriptions issued, collected and delivered same day

Venepuncture

Blood pressure checks

Urinalysis

Pulse Oximetry

Comfort calls, welfare visits & reviews

Wound Care

Ability to arrange short term care within 30mins 

Remote consultations with ANP/F2F GP appointments

Catheter care (subject to assessment)
Frequently Asked Questions
What is the Ambulance Support Service?
The aim of the service is to support the Ambulance Crews by reducing time on site waiting for a clinical handover and reduce conveyances to hospital. GPN provides patients with care and support to stay at home with confidence – providing health input as well as co-ordinating all other social care needs through calls, visits, medication reviews and GP appointments, where required. Patients are cared for and monitored closely at home for 5 days+ by offering clinical and care support and a dedicated phone line. GPN aims to integrate with, and coordinate with system partners to best serve our patients. 
What are the opening times for the Ambulance Support Service?
The Ambulance Support Service lines are open Monday – Friday (09:00 – 16:00) 
(Closed on Bank Holidays)  
If I am seen by the Ambulance Support team, will they have access to my medical record?
Your GP practice will ask for your consent to have your medical records shared with outside organisations. The Ambulance Crew will also ask for your consent to share your data with GPN during the onboarding process. 
If GPN do not have access to your medical record, we will request that your GP practice seeks consent from you for us to view your medical record. 
How do I make a complaint regarding the Ambulance Support Service?
If you wish to make a complaint about any of the GPN services
Please email your complaint to info@greaterpeterboroughgps.nhs.uk
Please provide your name, date of birth, phone number, and a reason for your complaint
Alternatively, you can call us on 01733 666670 and a member of our team will direct your call.