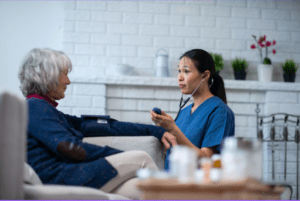 Health Care Assistant Home Visiting Service
Location:
Patient's Home
Opening Hours:
Monday – Friday 09:00-17:00
About the service:
Greater Peterborough Network's Home Visiting Service has been put into place to support GP Practices to provide timely care for their housebound patients. GP Practices can refer to their patients to us and one of our Health Care Assistants will go to a patients home to carry out basic procedures such as blood tests, blood pressure checks and urine screening. The team have full access to the patients record and the results of the checks are added to the record as soon as available. This allows the referring clinician to make an informed decision about the patients care plan.
What support we offer:
Blood Tests
Blood Pressure
Height and Weight checks
Urine tests
Stool Tests