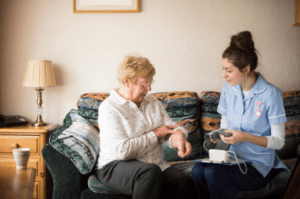 Location:
Patient's home
Service delivery:
Monday – Friday 09:00 – 17:00
About the service:
BP at Home, is a self-monitoring service available to all Peterborough patients who have an irregular Blood Pressure that do not have a pre-existing diagnosis of Atrial Fibrillation. Patients registered in the Greater Peterborough area can be easily referred for BP at Home Self-Monitoring for up to 14 days.
Once referred, GPN send a Healthcare Assistant to the patients house to demonstrate how to use the BP machine, and a BP Monitoring diary is provided for the patient to keep a record of their readings. The GPN team call or text the patient each day and enter daily AM and PM readings to the patients record for their GP to review.
This service is not restricted to just housebound patients, this service is available to all patients who need their BP monitoring.
What support do we offer
Home visits by Healthcare Assistant to demonstrate use of BP Machines
Loan of a BP machine and right size cuff
Daily calls from the GPN team to collect readings and check on wellbeing
Frequently Asked Questions
What is the BP at Home Service?
This service has been intoduced to support patients with an iregular blood pressure. The GP practice will refer the patient to our service, we will then contact the patient, deliver a BP machine and show the patient how to use the machine.
We will then contact the patient daily to receive the readings and send the GP practice the average readings over the 2 week period.
Who can access the BP at Home Service?
This service is open to ALL Peterborough and Wisbech registered housebound patients and is separate service to extended access.
What are the opening times for the BP at Home Service?
The BP at Home visiting service is available to visit patients Monday – Friday (09:00 – 17:00)
How do I get appointment with the BP at Home?
Speak to your registered GP surgery who will able to refer you to be seen by the BP at Home Service.
How do i Make a complaint to the BP at Home Service?
If you wish to make a complaint about any of the services that GPN offer
Please email your complaint to info@greaterpeterboroughgps.nhs.uk
Please provide your name, date of birth, phone number, and a reason for your complaint
Alternatively, you can call us on 01733 666670 and a member of our team will direct your call.