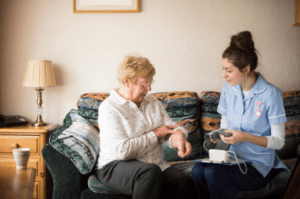 Location:
Patient's home
Service delivery:
Monday – Friday 09:00 – 17:00
About the service:
BP at Home, is a self-monitoring service available to all Peterborough patients who have an irregular Blood Pressure that do not have a pre-existing diagnosis of Atrial Fibrillation. Patients registered in the Greater Peterborough area can be easily referred for BP at Home Self-Monitoring for up to 14 days.
Once referred, GPN send a Healthcare Assistant to the patients house to demonstrate how to use the BP machine, and a BP Monitoring diary is provided for the patient to keep a record of their readings. The GPN team call or text the patient each day and enter daily AM and PM readings to the patients record for their GP to review.
This service is not restricted to just housebound patients, this service is available to all patients who need their BP monitoring.
What support do we offer
Home visits by Healthcare Assistant to demonstrate use of BP Machines
Loan of a BP machine and right size cuff
Daily calls from the GPN team to collect readings and check on wellbeing