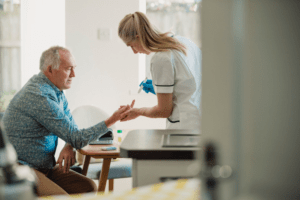 Diabetes Home Visiting Service
Location:
Patient's home
Service delivery:
Monday – Friday 09:00 – 17:00
About the service:
GPN use specialist trained HCAs to carry out home visits for housebound diabetic patients. The HCA will complete a full diabetic review, complete any checks, and also collect any necessary samples. GPN record and report all results back to the patients GP to review. On the occasions the HCA identifies instances which require immediate interventions, they are able to refer to podiatry and contact the GP for urgent adjustments to medication. This provides a vital service aiming to support patients with their overdue checks and reviews. This project has been a great tool in identifying other areas of healthcare required for patients who are unable to visit their surgery and is available to ALL Peterborough Practices. Housebound patients who think they may be eligible for this service need to contact their GP practice for a referral to the Diabetes Home Visiting team.
What support do we offer:
Diabetic Foot checks
Diabetic blood tests
BP checks
Urine samples
Height checks
Weight checks
Diabetic Reviews
Frequently Asked Questions
What is Diabetes Home Visiting service?
The Diabetes Home Visiting service has been introduced to support housebound patients to be seen for their annual diabetic review as the patients are unable to attend the GP practice. 
What services are available with the Diabetes Home Visiting Service?
Annual Diabetic Reviews
Blood Tests

Blood Pressure

Height and Weight checks
Urine tests
Alcohol 
Smoking
Diabetic Foot check 
Who can access the Diabetes Home Visiting Service?
This service is open to ALL Peterborough and Wisbech registered housebound patients and is separate service to extended access.
What are the opening times for the Diabetes Home Visiting Service?
The Diabetic Home visiting service is available to visit patients Monday – Friday (09:00 – 17:00)
How do I make a complaint to the Diabetes Home Visiting Service?
If you wish to make a complaint about any of the services that GPN offer
Please email your complaint to info@greaterpeterboroughgps.nhs.uk
Please provide your name, date of birth, phone number, and a reason for your complaint
Alternatively, you can call us on 01733 666670 and a member of our team will direct your call.